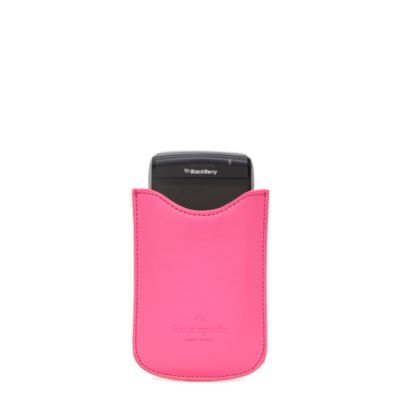 i know it's lent.
and i know i'm supposed to be saving money. i am, really.
but a blackberry pouch is something that i've always wanted, even when my phone was a nokia. and then i got a blackberry and i thought all blackberries (is it spelled this way too when you're referring to the phone?) came with a pouch but apparently they don't. so my blackberry is pouchless. and then i found out that a blackberry pouch is special cause it comes with a magnet that automatically locks your phone when you "holster" it (just like a gun!) and the magnet makes sure your phone doesn't slide out.
then i saw this. and it's only US$25. with free shipping.
i soooooo want this. except (1) i don't have a credit card and (2) i don't live in the US. i wish someone would show me MAJOR love by getting this for me. but since there's no one who could (and would) do that, i am taking matters into my own hands.
by easter, you flourescent pink blackberry pouch from kate spade shall be mine!!!! mine!!!! mine!!!!